Advanced hot runner system technology
Date:2014-03-29
Advanced hot runner system technology
With the mass production of plastic parts become more and more complex,hot runner system get more and more important in mould industry.Advanced hot runner system technology can use for injecting micro parts in medical products ,the weight can be only 0.02g. Also,hot runner system can use for injecting 15kgs or 30kgs weight large parts in auto or building industry.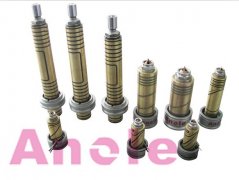 Hot runner system is the special structure components in the mould. In short,we can look hot runner system as the extension of injection machine.Hot runner system is transfer the melt plastic into the mould cavity. If possible,hot runner system best independently heat in order to compensate thermal losses. Advanced hot runner system technology need meet the below requirment:
the melted plastic in the nozzle need temperature keep constancy. Avoiding nozzle temperature to high.
Nozzle and mould need thermal insulation to avoiding thermal loss and maintain the melted plastic temperature.
Without leakage between nozzle and manifold.
Easy to clean the plasticand disassemble.
Anole hot runner researches and developed advanced hot runner system technology last year. Our integrated hot runner system is our new generate hot runner system. integrated hot runner system solve old hot runner system leakage problem,and it's easy to handle. More important,it reduce contact area between hot runner system and mould cavity.

Contact Demi Chen
Eml:service1@anole-hot-runner.com
www.anole-hot-runner.com
Quick Search
Search Products&News
Contact Us
Quality wins the market,Quality comes from Responsibility
Add:369# XinJiang Rd., Xinqian Street, Huangyan Taizhou, Zhejiang, China
Tel:+86-576-81106952
Fax:+86-576-84018996
E-mail:
service5@anole-hot-runner.com